In 1995, X Dash wrote his first rhymes and flirted with the idea of becoming a rapper. He dubbed himself "X-1" (after the plane that broke the sound barriar in 1947), and formed an experimental group with close friends Justin "10DenC" Sehorn, James Thomas, Ja'son Forte, and DJ Blotter. Rocking house parties with Sehorn's band IOTA, X-1 and the newly formed Faultline thrived on teenage angst and a love for innovative music.
In 2000, X-1 started working on a project with Don Jaun and Brion "B'ZL" Dennis for Mizery Records. That project fell through, and with a driven heart, X-1 ended up at Lock-N-Load Records/5150 Mental Production under the direction of Keith "Big Keith" Loneker, Tone Wisdom, and William "The Wierdo" Wilson.
After promoting locally for Strange Music on Tech N9ne's "Anghellic", and nationally for Tech N9ne's "Absolute Power", X-1 changed his name to X Dash and released his long anticipated first album "There Goes The Neighborhood" in Spring of 2003.
In 2004, X Dash graduated from William Jewell College with a BA in Communication.
Today, X Dash has become a growing force in the KC local scene and is currently on the grind to build his fan base and spread his name.
Recently X Dash has performed with Mystikal, Tech N9ne, 2 Live Crew, and Chingy. He has also been a part of the underground movement with several up and coming underground artists. In Fall of 2005, X Dash released his second album "WorkaholiKc" under his own Indie Label "Lost Soul". Expect his new book "The Words in My Brain and the Ink in My Veins" to drop in the Spring of 2006.
X Dash - There Goes The Neighborhood (2003)
Features from Tech N9ne, Kutt Kalhoon, Big Krizz Kaliko, 3AM, BoChamp, Cassanova, Skitzo, Ten-10, Icy Roc and Trajik.
01 The Call
02 There Goes The Neighborhood
03 VSOP
04 Freak You
05 What'cha Wanna Do
06 Something For The Playa's
07 Out Of Town Ho's
08 Crazy
09 How I Do It
10 MW Brings Pain
11 Outta Mine
12 Lost In Time
13 Blacktop Grindin'
14 Letters
15 Grin On My Grill
16 Freak You [Radio Edit]
X Dash - There Goes The Neighborhood
X Dash - Workaholikc (2005)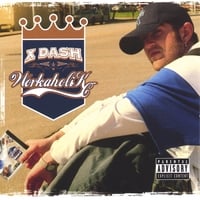 01 The Fix
02 Wigger
03 Trip The Light Fantastik
04 Boy Toy
05 It's Okay
06 Smokin' On That
07 Rev. Cletus P. Jones
08 We Get The Job Done
09 Love And War
10 WorkaholiKc
11 Belated Eulogy
12 Citizen's Arrest
13 John The Alien
14 Intergallaktic Juke Joint
15 B-E-A-utiful
16 Large Amounts
17 Bullshhhh!
X Dash - Workaholikc
X Dash - The Extro Version EP (2008)
01-The Blissful Wizard
02-Kiss The World Goodbye
03-Flying
04-The New Kid
05-Worms
06-One Of These Days
X Dash - The Extro Version EP