From KCMO, Court is a young multi-talented actor/ recording artist/ and film producer that first gained nationwide recognition being signed to music mogul Master P's No Limit Records and recording under the rap moniker "Court Dog" earning a RIAA certified gold plaque for his work on Master P's "Down South Hustlers" compilation. After a stint with No limit Records Courtney started his own independent record company D-Boy Records nationally distributed thru Select-O-Hits which is also home to Oscar winners 3-6 Mafia. Courtney has released 3 independent solo albums "Thugz Diary", "Pullin Rank", and "The Kansas City Chief" which have sold over 75,000 units collectively, as well as being featured in several national rap magazines and performing on a dozen compilations and movie soundtracks with total record sales being over 1 million. Always being the one to raise the bar and knowing no limitations, Courtney relocated to pursue acting and further his music career. Since arriving in 2003 he has starred or guest starred in several films which include Shattered Day, Love On The Rocks, Dont Touch If You Aint Prayed(Starring Ce Ce Penniston), and starring in the comedy Rib Shack which won the 2005 Global Arts Film Festival, 2005 Palm Beach International Film Festival, 2005 Independent Black Film Festival, and the 2005 Convention Film Festival in Los Angeles. After gaining a little acting experience Courtney soon fell in love with film making and solely funded his own full length feature film titled "Young American Gangstas" which he co-wrote, produced, scored, and starred in. Y.A.G. also stars Katt Williams, Lawrence Hilton Jacobs and the late Tupac Shakurs brother Mopreme Shakur. Staying true to his musical roots, Courtney also produced the movie soundtrack which features all new and original music from him as well as some of the rap industry most notable artist. Young American Gangstas will premiere on Black Starz and UVNTV.com in May 2008. He is currently in pre-production with his next film which is a romantic comedy and he also models for high fashion designers as well as fitness modeling and has all together retired from music.
Court Dog - Pullin' Rank (2000)
01 - Blow The Club Up
02 - Bloodbath
03 - Midwest Niggaz Feat. Smitty
04 - Get U Sum Feat. El Dosha
05 - Kill'em Up Feat. Mon-E-G
06 - How Many Wanna Murder Me?
07 - 5-Inches Off The Liquor
08 - Real Shit
09 - Game Changes You
10 - Smokin With My Thugs
11 - Till You Walked In My Shoes
12 - Roll Or Get Rolled Over
13 - Ride Wit Me
14 - Big Dogs
15 - Blow The Club Up (Radio Edit)
16 - When I Die
17 - Thugs Diary (Outro)
18 - Whats Next
19 - [Untitled]
20 - [Untitled]
21 - [Untitled]
22 - [Untitled]
23 - [Untitled]
Court-Dog - Pullin' Rank
Court Dog - Thugz Diary (2001)
01 Intro
02 What You Talkin Bout
03 Court-Dog Is Gonna Ball
04 Smokin Daily
05 Midwest Niggaz II
06 Skit (Lil Derrick From Mississippi)
07 Ready 4 War
08 Mystery Lady
09 Snort Somethin
10 Bloodbath 2001
11 Capital Gain Soldiers
12 Chokin Daily (Radio Edit)
13 Thugs Testimony
14 What's Next
Court-Dog - Thugz Diary
Court Dog - The Kansas City Chief (2003)
01 The Christening: By Bizzy Bone
02 We Ain't Playin' Feat. Finesse & II-Sikc
03 What Would You Do
04 Never Come For Me
05 Fa-Sho Feat. Bizzy Bone
06 Thugz 2 Tha Hart
07 Dem Just Don't Know (Skit)
08 Good Things Don't Come Easy Feat. S2TheB
09 Inphatuation Feat. Nikita Graves
10 D-Boys Feat. II-Sikc
11 4-Blocc
12 Are You A Ridah Feat. Rich The Factor
13 Nasty Feat. Mercury
14 Grilled Out (Skit)
15 Midwest Niggaz
16 Cuz I Can
17 The Big Gangsta
18 Gladiator Born 2 Die
19 Retribution
20 What's Next
Court Dog - The Kansas City Chief
Court Dog - Steel Here Movie Soundtrack (2006)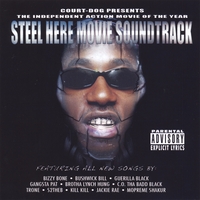 01 Steel Here (Court-Dog & Layzie Bone)
02 Na Na Na (Court-Dog & S2TheB)
03 We Gangsta's (Court Dog, Menensky & Mr. Keal)
04 Gon Be Alright (C.O. Tha Bad Black)
05 Beautiful (Homemade Soul)
06 Break Somethin (Bushwick Bill)
07 Who We Be (Court-Dog)
08 So Amazing (Gangsta Pat)
09 Pimp That Thong (Trone)
10 Keep Quiet (Court-Dog, Katrina & Raymond Charles Chevis, Jr.)
11 Angels Calling (Bizzy Bone)
12 Ganksta (Court Dog & Guerilla Black)
13 Fallen Soldiers (C.O. Tha Badd Black, Court-Dog & Monte Karlo)
14 Court Deezy Duz It (Court-Dog)
15 Freaky (Jackie Rae)
16 Duck Down (Mopreme Shakur)
17 Bring The Pain (Brotha Lynch Hung & Court-Dog)
18 Steel Here [Remix] (Big Chan, Court Dog & Menensky)
Court Dog - Steel Here Movie Soundtrack
C.C.G. AKA Ckanlus City Gz (Court Dog & Sisko)
C.C.G. - 100% Game (1997)
01 Step In My Hood
02 Parlaying In The Cut
03 You And That Bitch
04 I Game Permits
05 The Game
06 Ain't Got The Money
07 Gettin Game On
08 Dippin Thru My City
09 Gone Off That Shit
10 The G My City Made Me
11 I Talkin Murder
12 Sombody Think
13 R.I.P.
14 Going Out Like G'z
C.C.G. - 100% Game
C.C.G. - Only Game In Town (1999)
01 Intro
02 Heaven Or Hell
03 Dying Of P.H.I.V.
04 Everytime
05 Choppin It Up
06 Dead & Gone
07 Capital Gain
08 P-Poppin
09 Ghetto Thugz
10 The Hater N-U
11 That's How We Ride
12 81-Sicc
13 6ix-Deep
14 (Bonus Track) Last Days
C.C.G. - Only Game In Town
C.C.G. - Fully Loaded (2000) [Unreleased]
01-Make Em Bounce Feat. Mr. Servon & Big Belcher
02-Aint No Nigga Like A Gangsta
03-CCG Nigga What
04-I Aint Trippin On Shit
05-Come Get Me
06-Time 2 Hear That Pop
07-Rap Money
08-Already
09-Get The Picture
10-Did I Miss A Meeting
C.C.G. - Fully Loaded