Rap duo Potluck probably knows hip-hop's ongoing relationship with marijuana better than most others, since their place of residence, Humboldt County, CA, is one of the marijuana production capitals of the world. Their albums basically flow just like a couple of guys, namely 1 Ton, aka James Kerri, and UnderRated, aka Josh Leiderman, strolling the town rapping about women, sports, hip-hop, and of course, that Humboldt green. Kerri, originally from San Diego, and Leiderman, born and raised in Humboldt, first met each other in 1995 in that northern California county where they both won the same DJ contest. With UnderRated handling most of the production, the duo dabbles in both underground and more accessible, mainstream-flavored music, but either way, they definitely don't stray from their West Coast origins, which is shown by some of their notable collaborators: E-40, Mystik Journeymen, the Luniz, and prolific Cali producer Bosko. Their first two albums, Humboldt County High in 2001 and Harvest Time in 2004, were released through their company, Lost Koast Productions, a business venture with musician and fellow co-producer Jefferey Simmons, Jr. However, their 2006 album, Straight Outta Humboldt, was jointly released with the Suburban Noize label, attracting them more national attention than had their prior work.
Potluck - Humboldt County High (2001)
01 The Weed Album
02 Humboldt County High
03 What's Your Purpose??
04 In My Chest
05 Maintain
06 Why Is Marijuana Illegal?? (Skit)
07 Potluck
08 I Remember
09 Shawn
10 Don't Fall A Sleep
11 Wake Up (Skit)
12 Where We Live
13 Game Goes
14 Dr. Feelgood
15 Lyrical Battle
16 One Thing I Like About Myself
17 Rollin' Dem Blunts Again
Potluck - Humboldt County High
Potluck - The Lost Koast Kollective (2002)
01 U Can Catch Me
02 Humboldt Hip-Hop
03 Bubble A Little
04 Can't Stop Me
05 First Kiss
06 1, 2, 3
07 Underground
08 Wanna Be With You
09 1-800-I-Can-Rap
10 It's A Shame
11 Risin' On Ya Game
12 Let U Know
13 Alone
14 Talk Is Cheap
15 No Worries
16 Girl
17 R U Down 4 Me
18 Absolute Intoxication
Potluck - The Lost Koast Kollective
Potluck - Harvest Time (2004)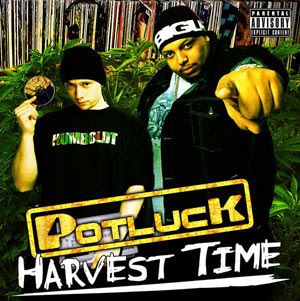 01 Intro
02 Fight Night
03 Inhale/Exhale
04 Budget
05 Say What Ya Wanna Feat. Tech N9ne
06 Let Loose
07 Freedom
08 Stand Up
09 Real Phone Calls (Insert)
10 You Aint That Fine Feat. E-40 and Bosko
11 Do It Now
12 Sports Junkies Feat. Equipto
13 Hip Hop Feat. Mystik Journeymen
14 Smokin On A Blunt
15 U Don't Even Know Me
16 The Way It Goes
17 Live In Colorado (insert)
18 Rap Life Feat. Cool Nutz
19 Lovin' U
20 Just Like U
21 What Am I
22 First Kiss
Potluck - Harvest Time
Potluck - Straight Outta Humboldt (2006)
01 Rock The World
02 Get High
03 Fire
04 The Interview (Skit)
05 Mary Jane Feat. The Luniz
06 Money Makes The World Go Round
07 Dank Alumni
08 My Life
09 What We Are Feat. Tech N9ne & Big Krizz Kaliko
10 U Ain't That Fine Feat. E-40 & Bosko
11 Meeting With The Boss (Skit)
12 Roll Big Feat. Kottonmouth Kings
13 Doing Alright
14 Welcome 2 Humboldt
15 Love Me
16 Revolution Feat. Chali 2NA Of J5
17 Phone Calls (Skit)
18 Marijuana 101
19 One Day
20 Our History
21 Funeral Feat. Twiztid
Potluck - Straight Outta Humboldt