Playya 1000 is responsible for putting Tulsa, Oklahoma, on the hip-hop map, dropping heat for the last 18 years.
As a member of the local underground group DC Boys, Playya began recording tracks at a faster pace than the rest of the group, resulting in over 30 solo songs and the launch of a solo career.
The first Playya 1000 release, 'Reality', was a hit record in the streets despite little radio support. The street buzz from 'Reality' paved the way for nationwide distribution and his second release, 'Blame it On Society?', which sold roughly 20,000 copies and was featured in The Source Magazine. Fans outside of Oklahoma began to take notice of the California/Midwest hybrid sound that would make Playya 1000 internationally known.
Riding the success of 'Blame it on Society', the Dynamic duo released 'Mo Drama' in 1994, considered by many fans to be an underground classic. The album featured the summer anthem 'Sunday Afternoon' and sold 30,000 units. 'Sunday Afternoon' has been a fixture on Tulsa radio stations since its release and has been featured on numerous Japanese mixtapes.
After working with other artists such as Deco D, Ghetto Kaos, Big Bur-na and 5-0 Hustlas, Playya released his fourth solo record, 'Foe Da Mill Ticket'. While considered his best release, Playya gained custody of his four children and was forced into an early retirement. The album did not receive the proper promotion and distribution it deserved.
Playya 1000 - Reality (1991)
01 - Mom Tried
02 - Eazy
03 - Smokers
04 - Playya 1000's Groove
05 - Something Funky
06 - Lookin' For A Hero
07 - 40 Hour Front
08 - A Final Message
Playya 1000 -Reality
Playya 1000 - Blame It On Society (1993)
01 Blame It On Society
02 Dis X Is 4-Ever
03 Love Don't Live Here
04 Mobbin' Feat. Small Town Playya's
05 2 Bad I Don't Smoke
06 Prelude 2 Black
07 Black On Black
08 Easy (Street Version)
09 G's Up
10 County Jail Trippin'
11 Mom Tried (Radio Version)
12 Doin' Bad Feat. Silent Rage
13 Easy (Radio Version)
Playya 1000 - Blame It On Society
Playya 1000 - Mo' Drama (1994)
01 - Drama (Intro)
02 - A Pound
03 - Creep Wit' Me
04 - Sunday Afternoon
05 - Feel Me
06 - Special
07 - T-U-L-S-A
08 - Mo' Drama
09 - The Layback
10 - Watchin' U
11 - 2 Snaps
12 - 4-The-Nigga-N-U
13 - Sunday Afternoon (Radio Edit)
14 - Creep (Outro)
Playya 1000 - Mo' Drama
Playya 1000 - Foe-Da-$Mill$-Ticket (1995)

01-Intro
02-Things Will Be
03-1-2 Time Homiez
04-The Chase
05-Choppin Game
06-The Lick
07-Boom-Boom Feat. Dramma
08-Stressin Feat. Theo McGee
09-Straight Lacin Feat. Dramma
10-On & Poppin
11-All Day Everyday
12-1-2 Time Homiez (Radio)
13-The Lick (Radio)
Playya 1000 - Foe-Da-$Mill$-Ticket
Playya 1000 - The Forgotten Man (1997)
01 - Foe Da Mil Ticket
02 - In My Pockets
03 - Love Don't Live Here Anymore
04 - Funk In Da Trunk
05 - Da Lick (Remix)
06 - Choppin Game (Remix)
07 - Strange (This Feelin')
08 - Looking Out My Window
09 - Thinking Deep
10 - Da Northside
11 - Da Streets Know
12 - Tha Dice Game
13 - Mentality
14 - Can't Escape
15 - Things Will Be (Instrumental)
16 - The Lick (Instrumental)
Playya 1000 - The Forgotten Man
Playya 1000 - 20-20 Vision (2007)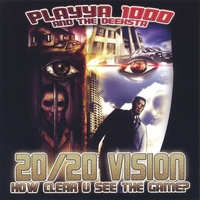 01 Intro (What If)
02 2 Step
03 Da Anthem
04 Sunday Afternoon (4-Ever)
05 Let's Go
06 Love Dont Live Here
07 Everybody Make It Home
08 Special
09 Driven
10 Yes Sir
11 Out Tha Way
12 How Times Have Changed
13 20-20 Vision
14 Just Ridin
15 Give A Lil Mo
16 Da Chase
17 Choppin Game
18 Get Yours
19 Refuse 2 Lose
Playya 1000 - 20-20 Vision