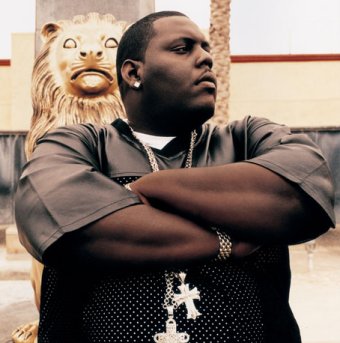 Compton, CA-based MC Guerilla Black, a dead ringer for Notorious B.I.G., was born in Chicago and spent time with his family in Mississippi before heading to the West Coast. An initial label deal fell through, leading Black to give up on his ambitions; his life took an extreme turn for the worse when he lost his wife to meningitis, but his brother coaxed him back into MC'ing. Virgin caught wind of his talent, signed him to a deal, and released the Guerilla City album in 2004. "You're the One," featuring Mario Winans, began to gather steam during the tail end of the year.
Guerilla Black - Black By Popular Demand (The Official Mixtape)
01 - Muthafuckaz Gon' Die
02 - Black Won't Change
03 - Rolling Thru The Hood
04 - Running From The Police
05 - Cut The Lights Out
06 - Dollar Figga Gang
07 - Freak In You
08 - Uh Oh
09 - G'd Up
10 - Give It To Me
11 - Let's Make Moves
12 - Lonely
13 - Lord Knows
14 - I Don't Give A Fuck
15 - One For Black Fresstyle
16 - Run Up On You
17 - Searching For...
18 - Blackbounce
19 - Problem Solver Freestyle
20 - The Outcome
21 - Who Did It
Guerilla Black - Black By Popular Demand (The Official Mixtape)
Guerilla Black - God Bless The Child
01-Genesis
02-Thank You (God Bless The Child) Feat. Janet
03-The Streets Feat. Chris Jones
04-Whatever
05-She Wanna Baller
06-Put Yo Hands Up
07-I Know
08-The Life Feat. Lejohn
09-U Do U
10-Pour Me A Drank
11-Round & Round
12-Revalations
Guerilla Black - God Bless The Child
Guerilla Black - Guerilla City
01 Hearts Of Fire
02 Guerilla City
03 Compton Feat. Beenie Man
04 You're The One Feat. Mario Winans
05 The Strip Club (Skit) Feat. Alex Thomas
06 Trixxx
07 Guerilla Nasty Feat. Jazze Pha & Brooke Valentine
08 Sunrise
09 What We Gonna Do Feat. Nate Dogg
10 The Hotel (Skit) Feat. Alex Thomas & Vonda Hope Easton
11 Say What
12 Yes Sir
13 Its All Right
14 Girlfriend Feat. Jazze Pha
15 My First
Guerilla Black - Guerilla City
Guerilla Black - Real Niggaz Say Real Shit Volume 1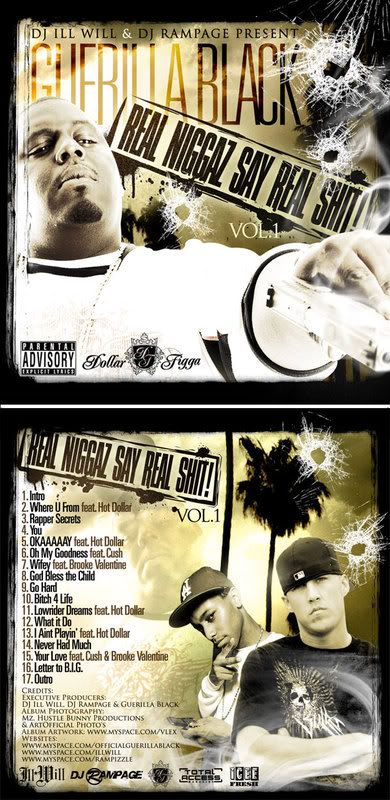 01 - Intro
02 - Where U From Feat. Hot Dollar
03 - Rapper Secrets
04 - You
05 - Okaaaaay Feat. Hot Dollar
06 - Oh My Goodness Feat. Cush
07 - Wifey Feat. Brooke Valentine
08 - God Bless The Child
09 - Go Hard
10 - Bitch 4 Life
11 - Lowrider Dreams Feat. Hot Dollar
12 - What It Do
13 - I Ain't Playin' Feat. Hot Dollar
14 - Never Had Much
15 - Your Love Feat. Cush & Brooke Valentine
16 - Letter To B.I.G
17 - Outro
Guerilla Black - Real Niggaz Say Real Shit Volume 1